Who are we?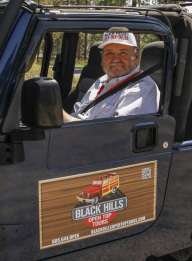 OWNER / OPERATOR
Hi - I'm Rich Watkins, a Dakotan . . . fourth-generation.


In 1889 at the age of four my great grandmother came to the Dakota Territory from Indiana in a covered wagon. This was a few months before it became a State and one year prior to the Wounded Knee Massacre. My grandfather homesteaded land in North Dakota and my father purchased his farm in South Dakota after serving in WWII.

I attended University and received a MA in Educational Administration, with undergraduate degrees in Social Science, Industrial Science and Driver Education.

I've been enjoying the Black Hills region for over 40 years . . . exploring its beauty, studying its history and visiting the old back roads and forests in my convertible top Jeep's . . .

In 2012, I established Black Hills Open-Top-Tours with the idea of sharing the fun and excitement of touring the Hills the best way possible . . . in an Open-Top.

---
OUR GUIDES -
Our staff members are professional, safe, informative . . . and most importantly Fun! They will answer your questions, never rush you and make frequents stops for photo ops and restroom breaks. They will bring the history of this region to life . . . as you sit back and enjoy the open-top panoramic views of the Hills.

We all truly love the Hills and enjoy showing them off . . . and the best part of our job . . . we get to enjoy the day and have FUN too!

Why choose us?
TO EXPLAIN - There are three main types of sightseeing tours.
Self Guided - You as the driver and guide. Pros: This is affordable and allows flexible schedule. Cons: You run the risk of getting lost . . . missing unknown local sites and if you are a good driver . . . you're watching the road so you miss seeing all the 'fun stuff'.
Bus Tour - Usually with 30-40 other passengers with the view through the window and programed narration. Pros: Usually a comfortable tour and slightly less cost because of passenger volume. Cons: Not time flexible and doesn't allow impromptu photo ops.
Van Tour - Using 15 passenger vans or 7 passenger minivans. Pros: Most tours are flexible to a degree, they may be slightly more expensive than a Bus Tour but usually offer personalized interaction with the driver/guide. Cons: Limited viewings through the smaller windows and less seat comfort.
WHY US -
We offer Another Option . . . one that will provide an exceptional experience with unforgettable memories. A tour that is comfortable, flexible, educational and FUN!
Comfortable - Our vehicles have been modified to provide comfortable seating and exceptional viewing.
Flexible - We never rush you . . . stopping often for breaks and photo ops.
Educational - Our guides share with you . . . one on one . . . the history of the Hills, the Gold Rush, Deadwood, the Indian Wars, Mt Rushmore, the history of the Lakota Sioux and much more.
Fun - This is why I started Open-Top-Tours. Our convertible top vehicles provide exceptional mountainside and wildlife viewing. At Custer State Park we drive within feet of the buffalo . . . and you can safely stand and look down upon them. At the Needles Highway and Iron Mountain Road, we progress slowly along the winding roads . . . offering again an opportunity to stand and take in the panoramic views of the most iconic parts of the "Hills".
And . . . Our guides are a 'Hoot' . . . fun loving, caring and knowledgeable.
ABOUT OUR TOURS -
All inclusive full day tours include: fees, bottled water, snacks and picnic lunch (with wine).
Handicap accessible tour vehicles available (no additional fee).
Free pickup from most Black Hills locations.*
Suggest you bring: hat, light jacket, sunglasses, binoculars and a 'real' camera.
Be aware that the first two weeks of August is always the Sturgis Rally.
Be Well - Rich Please check out our webpage "Info & Google Maps" for detailed info on things to see coming here.
---